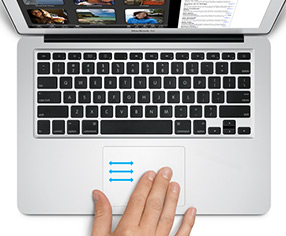 Last week I updated my Macbook to OS X Lion, just like many others. There are many changes in the new OS. Most of them will be improvements and I bet that some of them I cannot live without after a while. But other I still have to get used to.
Obviously the reversed scrolling direction on the trackpad was the most prominent and I am still in doubt whether I should reverse it or not but this is easily done and a matter of taste I guess. The second thing I noticed was the the three finger gesture to navigate forward and backward in Google Chrome was not working anymore!
I found this very disappointing because it is one of my most frequently used gestures while I'm on the web. Some research made me find out that the three-finger swipe now was used for switching between full-screen apps and that Safari implemented the two-finger swipe to navigate back and forward. Unfortunately the two-finger swipe doesn't work in Chrome. Switching to Safari was one solution, but I am quite happy with Chrome nowadays so the search continued.
So here is the actual solution:
Open the trackpad preferences
Go to the third tab "More Gestures"
Change the "Swipe between pages" gesture from "Swipe left to right with two finger" to "Swipe with two or three fingers"
Et voilà, your super-awesome three finger swipe navigation in Google Chrome is back!
Please note that the gesture for "Swipe between full-screen apps" will change from "Swipe left or right with three fingers" to "Swipe left or right with four fingers"
On a side note, there is an issue in the Chromium issue queue to make Chromium on Mac integrate with the default OS gestures so a future releases of Chrome / Chromium might make this post irrelevant. Till that time, I hope it helps!